ADD : No 1006 Wenchang East Road, Yangzhou City
TEL : +86-514-86168288
hotline : +86-514-86424918
Fax : +86-514-86421039
E-Mail :
Business contact
jscq@jscq.com
investors
irm@jscq.com
| | | |
| --- | --- | --- |
| | Products | Your location: Home > > Products |
12.5% diniconazole wettable powder
Features
This product is effective to scab of pear, wheat powdery mildew, brown leaf rust, banded sclerotial blight and leaf blight.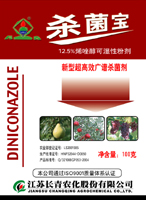 Notes
1. Avoid using with alkaline pesticides.
2. In case of contact with skin or eyes, rinse immediately with plenty of water, seek medical advice.
3. Keep in cool and dry place.
Warranty period is two years.