ADD : No 1006 Wenchang East Road, Yangzhou City
TEL : +86-514-86168288
hotline : +86-514-86424918
Fax : +86-514-86421039
E-Mail :
Business contact
jscq@jscq.com
investors
irm@jscq.com
| | | |
| --- | --- | --- |
| | Products | Your location: Home > > Products |
12.5% myclobutanil E.C.
Features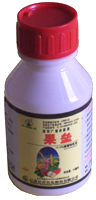 Myclobutanil has features including: high efficiency, broad spectrum, low toxic. It is effective in preventing and controlling diseases caused by ascomycotina, basidiomycotina, deuteromycotina.
Notes
1. Comply with application rule of pesticides.
2. In case of contact with skin and eyes, rinse with clean water.
3. Keep in cool, dry and well-ventilated place.
4. Warranty period is two years.