Features
  It is effective to most broad-leaved weeds in wheat field.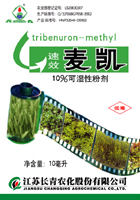 Objectives of prevention
  Chickweed, galium aparine, amaranthus retroflexus, and other broad-leaved weeds
Notes
1. Comply with conventional pesticide usage rules when application.
2. In case of contact with skin and eyes, rinse with clean water.
3. Keep in cool and dry place. Warranty period is two years.