Features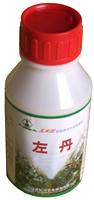 It is effective to abutilon, xanthium sibiricum, commelina communis, field bindweed, shepherd's purse, sonchus brachyotus, cirsium setosum, circium japonicum, nightshade and other annual broad-leaved weeds.

Notes
1. In case of contact with eyes or skin, rinse with plenty of water, seek medical advice.
4. Keep in cool and dry place.

Warranty period is two years.