ADD : No 1006 Wenchang East Road, Yangzhou City
TEL : +86-514-86168288
hotline : +86-514-86424918
Fax : +86-514-86421039
E-Mail :
Business contact
jscq@jscq.com
investors
irm@jscq.com
| | | |
| --- | --- | --- |
| | Products | Your location: Home > > Products |
25% buprofezin wettable powder
Features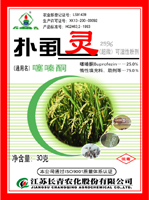 This product is new-model selective insecticide, which can inhibit the growth and development of insects.
Objects of prevention
This product is mainly used to control rice planthopper.
Notes
1. In case of mistake drinking, drink water as emetic, seek medical advice.
2. To protect from direct sunlight, keep in cool and dry place.